Special Products: Tunnel plug
Tunnel plug, for the tunnel and mining industry

While fighting a fire in a tunnel, it is sometimes needed to seal of one or both sides of the tunnel. Until now no adequate solution were available. However, Liberty Gasturbine Holland BV brought a solution for this problem by introducing an inflatable tunnel plug. The plug can be erected in minutes. Every tunnel plug is custom-build to meet various tunnel/mine shapes and sizes. These plugs can be implemented in (new) tunnels such that it only required one push on the button to inflate the plug. Click
here
for several scenarios to attack tunnel fires.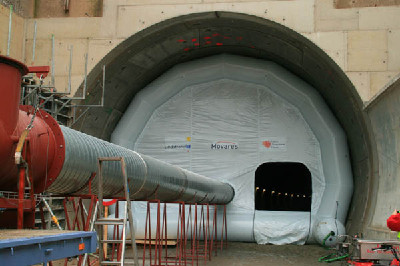 Mine plug/stopping
In order to seal sections underground, we developed an inflatable seal which could be deployed in less than 5 minutes. The plug can withstand 475 degrees Centigrade. The plug can be used over and over again. The only thing needed in a mining set-up is 2 strong bolts to hold the cable hooks in case of a pressure difference is applicable.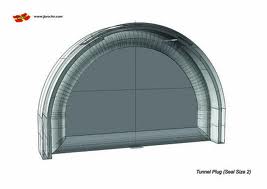 Click
here
for an example of plug mount.