Steamexfire 1702 (TRS2500AG)
The TRS2500AG (Turbine Response System) is a new replacemend product for all previous earosol generators. Its function remains the same compare to the Steamexfire 1702.
The TRS2500AG is a compact mobile system and has a powerful throw lenght capacity. Its mixture of water vapour and air (with 17% oxygen) has an enormous velocity when leaving the system. This creates a substantial range (throw length) and thrust (boost).
These properties make the TRS2500AG a suitable tool to use in combination with the Steamexfire 2500 system for fighting tunnel fires. The TRS2500AG increases the velocity of the inert gas produced by the Steamexfire 2500 system for inertisation purpose. This results in an even faster reduction of oxygen in the affected area. This combination makes this set-up to be the most powerful method of fighting tunnel fires worldwide.
Another application is washing down smoke, gasses, dust, amoniagasses. Duel its enormous throw lenght and due its hydraulic steering, operators can follow any wind direction.
The main purpose of the TRS2500AG is to cool down tankers, silo's, ships, vessels to avoid boil over situations and to blow out oil wells or gas fires.
The TRS2500AG can be placed on any vehicle, trailer or vessel.
Click here for information about the Steamexfire 1702 to fight bush/forests fires.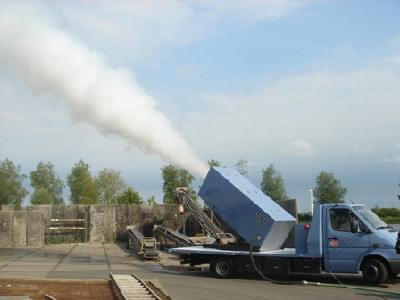 Technical specification:
| | |
| --- | --- |
| Engine: | LGH 2500 |
| Total weight of module: | approx. 1500 kg |
| Total length: | approx. 3,5 metre |
| Output: | approx. 15 m3/second |
| Throw length | approx. 150m |
| Fuel consumption: | max 750 litre/hour |
| Water consumption: | max 4 m3 litre/hour |
| Electric power: | Not required |